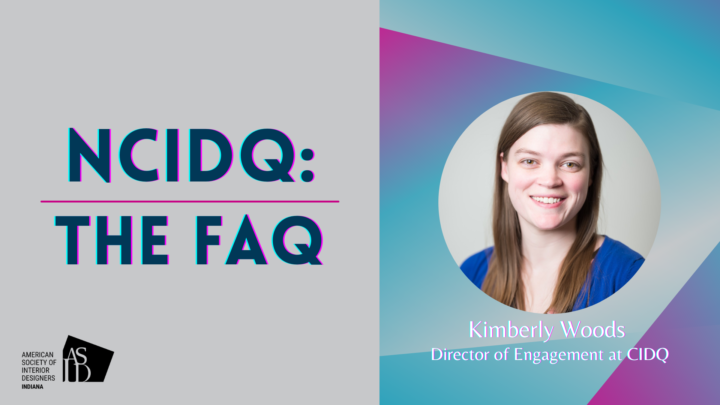 Description
Tune in virtually to hear from Kimberly Woods, Director of Engagement at CIDQ, discuss the ins and outs of the NCIDQ.
Starting with the basics, topics will include registration and fees, scoring, and how registration varies by jurisdiction. Kimberly will also cover the major topics such as question topics, study resources, and how becoming NCIDQ registered can improve your careeer outlook. An open Q&A with attendees will answer you most pressing questions. Don't miss out on this valuable NCIDQ discussion – straight from the source!
About the Presenter:
Kimberly woods is the Director of Engagement at CIDQ. After previously serving as Data and Program Manager at CIDQ, Kimberly has rejoined the organization in a new role as Director of Engagement. In this position, she works on outreach and engagement with a number of stakeholders, including students, educators, member boards, and association chapters, among others. In addition, Kimberly has continued to support the volunteer Ambassadors program, as well as providing support for CIDQ's Board of Directors, CEO, and other office staff.
Prior to CIDQ, Kimberly worked for an energy consulting company in Ohio. Kimberly received her Master of Arts in Teaching from Loyola University Maryland, and a Bachelor of Arts in Political Science and Global Studies from the University of Toledo.In Alexandria, Kimberly enjoyed volunteering with the local community as a reading tutor for a fourth grader and mentor for a seventh grader. Having relocated to Ohio, she is excited to spend more time with her family.